Login
Log in if you have an account
Register
Having an account with us will allow you to check out faster in the future, store multiple addresses, view and track your orders in your account, and more.
Create an account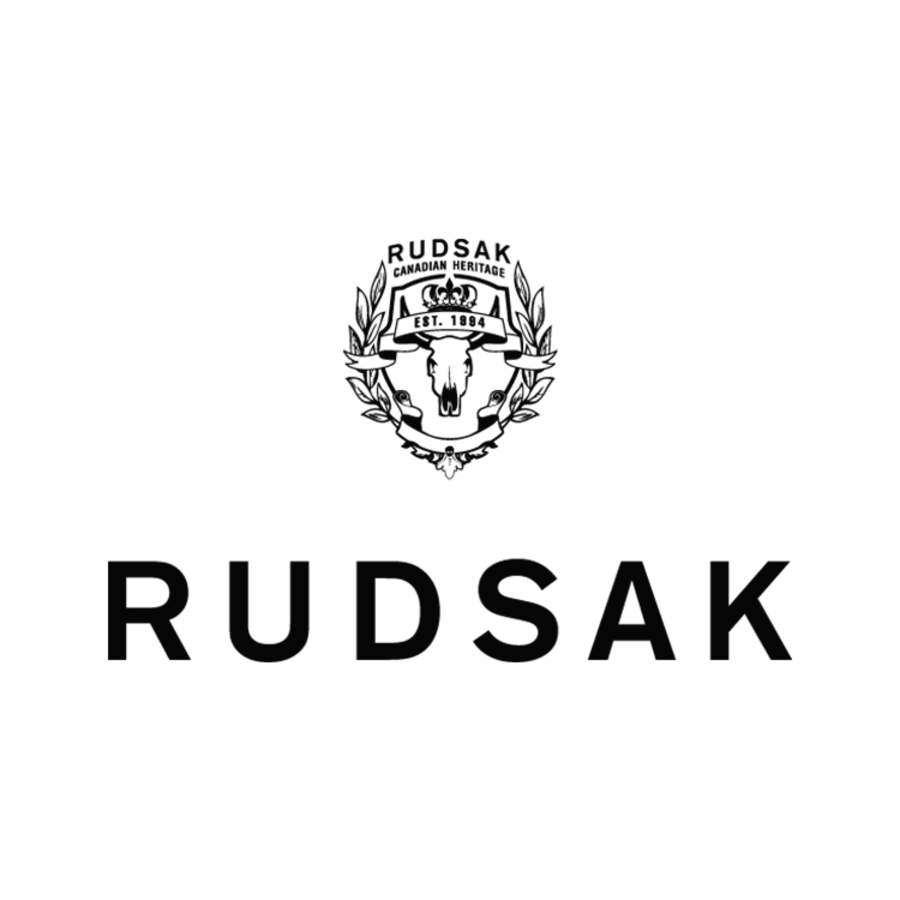 RUDSAK
It starts with an iconic black leather jacket. From Marlon Brando to Joan Jett, the leather jacket has always been the uniform of the rebel, a symbol of non-conformity and the inspirational fuel for founding RUDSAK. The brand was launched in 1994 by its visionary and creative leader, Evik Asatoorian, who continues to head up the conception and design of classically cool collections of leather apparel and accessories.
The first garments were fashioned in an old brick building in the heart of Montreal's garment district. Collections came to life in RUDSAK's atelier, home to every stage from the selection of finest leathers to the skilled handiwork of trained craftspeople for over 25 years, the RUDSAK brand has been anchored by a cool rebellious spirit, traveling seamlessly between art, music and design, adding new layers of meaning with each new line.
Located in Montreal, Canada, the privately owned company's head office is the birthplace of all RUDSAK designs. Whether it's a classic leather jacket, elevated outerwear or innovative knits and sportswear, the artful inspiration continues to flow.
Like your favourite well-worn black leather jacket, it just keeps getting better with age.
THE BRAND
For over 25 years, RUDSAK has been anchored by a rebellious spirit. Travelling seamlessly between art, music and design, the brand creates edgy, elegant footwear, outerwear, apparel, bags and accessories grounded in the brand's Canadian heritage and Montreal roots. Synonymous with effortless style, RUDSAK adds daring, contemporary twists to classic silhouettes that celebrate individuality and self-expression.
Using only the finest luxe leathers, furs and fabrics, trimmed with our signature hardware and details, each RUDSAK product is formed by the values, skills and handiwork of the talented artisans, craftspeople, visionaries and merchants who bring it into being.
The label is available online, through select retailers and at over 30 branded boutiques that share its classic cool, rebel chic ethos and elevated modern aesthetic.
THE FOUNDER
An aesthetic visionary with a keen business sense, Evik first embarked in the challenging fashion world as a teen. Staying true to the path toward his destiny, he honed his skills creating footwear, then founded a leather garment business with his family.
In 1994, armed with a solid background in the needle trade and fueled by the dream of having his own label, he launched RUDSAK. Evik remains the creator and curator of the RUDSAK brand today.
His passion for fashion's art and beauty combined with his fastidious eye and attention to every stitch & detail to give rise to an elegantly edgy, classically cool lifestyle brand.
Evik stays anchored by his origins, inspired by Montreal's vibrant and diverse culture and staying true to the spirit of RUDSAK's authentic Canadian heritage. . 
"I've been designing for over 25 years and, amazingly, still feel that creative rush stemming from the creation of every new collection. I truly relish the creative process every season, striving to inject fresh seasonal twists to the fashion we're creating while upholding that edgy rebel spirit that sets us apart."
THE VALUES
PASSION is expressed by our employees, who constantly strive to improve and surpass themselves and convey enthusiasm for their work.
EXCELLENCE means applying world-class standards and minutely monitoring every detail — from product conception to customer experience, every element is crucial.
INNOVATION is essential in our endless quest to constantly elevate our performance, products and experiences — always with a respectful regard for the past but paving a creative path forward.
These values fuel our success. They define us today and guide us to the future.