Login
Log in if you have an account
Register
Having an account with us will allow you to check out faster in the future, store multiple addresses, view and track your orders in your account, and more.
Create an account
AG Jeans: The Perfect Fit for Every Body
21 Dec 2022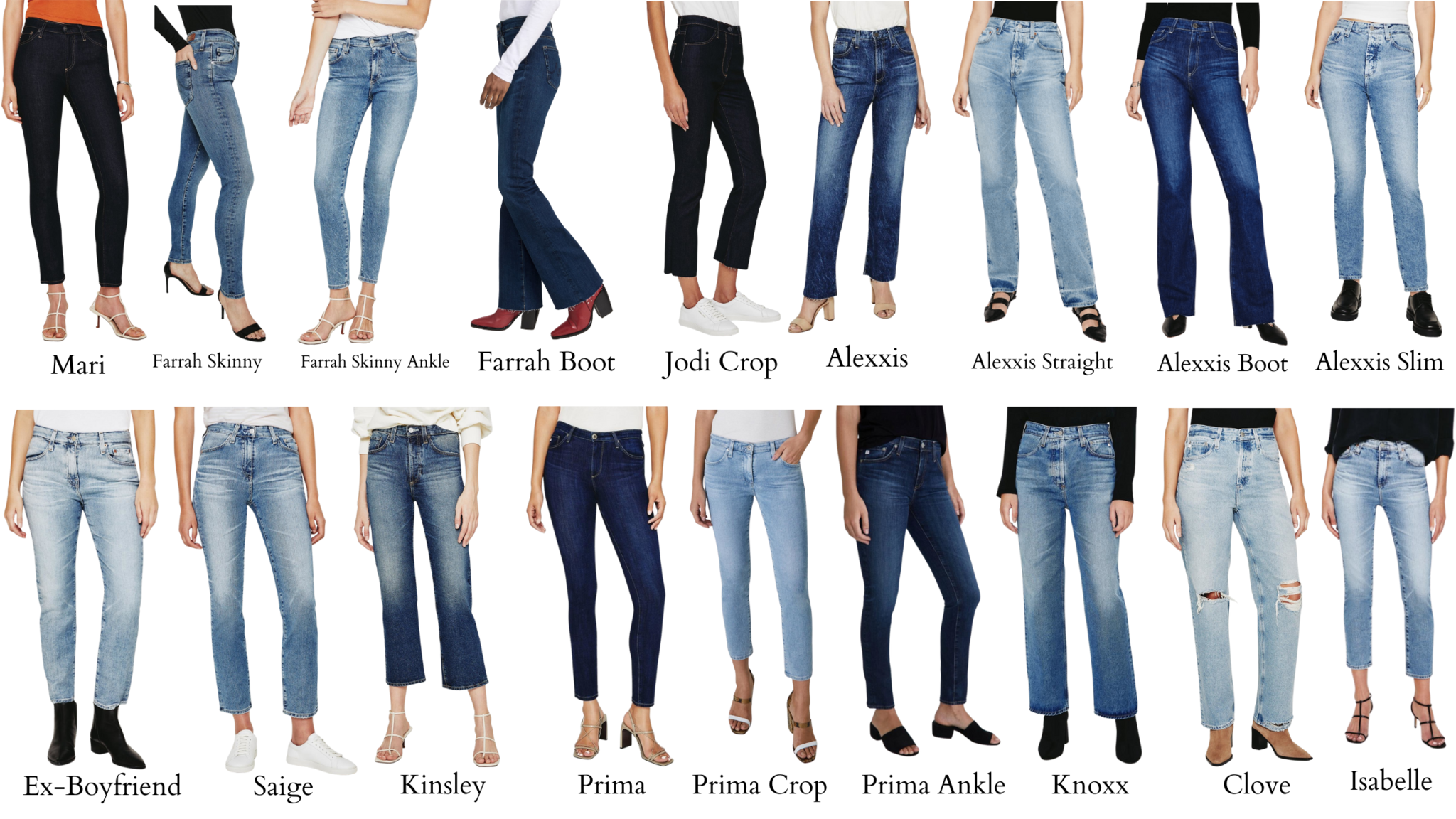 Where are AG jeans from?

AG Jeans manufacturers all their products in-house. This means that the jeans are completely made by the company in their own facilities. Currently, the company owns three separate manufacturing locations. Two are in California and one is in Mexico City. 
 
Goldschmeid initially founded diesel and is credited by many as the "godfather of denim." Goldschmeid arguably invented premium denim, elevating the fabric from its humble working roots into a lux fabric that can get dressed up or down as needed. He has not been with the company since 2004, after Yul Ku bought out his share, but his design principles and dedication to quality live on.
 
Yul Ku originally got into the denim world by setting up a manufacturing plant that provided products for some of the biggest brands in the fashion world, including Lucky Brand, Gap and Abercrombie & Fitch. In 2008, he named his son, Samuel Ku, AG's creative director. The younger Ku brought a whole new vision to the brand, overseeing the release of their boyfriend jeans, a staple in many women's closets to this day.
 
Under the Ku's, AG Jeans leads the fashion industry in adopting sustainable creation technology. Distressing denim was traditionally accomplished with harsh chemicals that weren't safe for workers or the environment. AG has adopted sustainable techniques, including reusing heat and lasers to distress, over the years to keep the earth, their employees and their customers safe. 
 
Finally, it's integral to look at the brand's partnerships. One of their biggest collaborations was the 2015 deal they struck with Alexa Chung, everyone's favorite style icon, to create a line of jeans inspired by the 60s and 70s. The collection quickly sold out, and the Chung/AG collabs are still hotly sought-after items. However, AG Denim isn't strictly about partnering up with celebrities or influencers. The brand has also worked with several charities over the years to give back to people around the world. One of their largest collaborations was a year-long partnership with Water for People in 2019, donating $100,000 to the organization thanks to revenue generated by the brand's collab with Blanda. During the pandemic, the brand gave $1 million to help clinics and hospitals serve as many people as possible.

Why do AG Jeans fit so well?

We're going to be honest, the moment you put on a pair of AG jeans, you'll instantly feel a difference. We chalk that up to three main factors: cut, material and stretch. We're going to go over stretch in the next section, but the cut and material deserve plenty of attention.
 
Cut – Girl, we've all been there. You found what you think is the perfect pair of jeans hanging on the rack. They look like they're going to fit like a glove without leaving space at the waist or making your butt look droopy. You're ready to conquer the day. Then, you try them on only to be disappointed. They look like something your boyfriend would wear. The problem? They're cut incorrectly.
 
The biggest thing we hear about when introducing people to AG Denim is just how many cuts there are. Current cuts offered include:
 
·      Skinny
·      Straight
·      Cigarette
·      Boyfriend
·      Bootcut
·      Trousers
·      Barrell 
·      Wide
That is a lot to take in, but then you need to consider how the brand also offers all these styles in different rises as well, including low, mid and high rise jeans. That alone is 24 different cuts!
 
However, a brand can have an assortment of cuts, but if they can't match your body type, they're not going to do you a lot of good. AG Denim jeans are created with a female figure in mind rather than the straight, up and down cut many expect when looking at jeans. By cutting their jeans to accommodate the female figure, AG Denim creates a flattering silhouette that keeps you looking great (and your bum risen).  By offering an assortment of cuts to fit your body, you can find the right cut and rise to flatter your body. You'll no longer need to worry about whether or not a pair of pants is going to work for your body, you simply move on to the next rise or cut until you find that perfect pair of jeans that you will re-wear for years to come. With AG Denim, it truly is that simple.
 
Fabric – Hear us out, but we have another story to tell. Again, you find the perfect pair of pants hanging on the rack. Just like with the last pair, you expect them to fit like a dream… and they do! The problem? The denim feels like sandpaper against your skin, and you know the moment you bend down in them they're going to rip at the seams. 
 
This is a common problem with cheap denim. Because manufacturers are looking to cut costs in any way they can, they make their denim out of a really cheap weave. Reinforcement? No way. This denim is supposed to last until your next paycheck before you need to buy another pair. Quality stitching? Hard pass. These jeans are made with imported "denim" and hastily thrown on machines that use a cheap, synthetic thread. Comfortable? If by comfort you mean and itchy, scratchy feeling then yes! These jeans are great! But that butter smooth feeling you get from a premium denim? Lol. There's no way.
 
AG Denim's prime goal when starting out was to create a denim that could withstand anything while feeling great. That means you get the durability of working brand jeans like Levi's mixed with that super soft feeling that comes with a quality denim. Not only are you going to get durability and quality, but you're also going to get longevity. As long as your jeans are cared for properly (by following the washing instructions) your jeans can get passed down to multiple generations.
 
Jeans with Stretch
We are HUGE fans of stretch in jeans for several reasons. The main one? It gives us a great fit! But, again, we have to look at what happens with poor quality jeans. 
 
Too Much
Have you ever put on jeans that legit feel like they're made of legging material? We're not talking about jeggings either. We mean honest to goodness, what material are these made from jeans. Here's the deal with those. They are soft, however, they have way too much stretch in them to last. When there's a higher percentage of stretch in denim than there should be, these jeans start to lose their shape. You can resurrect them for a few wash cycles, but they'll eventually become blob pants that won't work anymore.
 
Not Enough
On the flipside, there's also the case of jeans with not enough stretch. These jeans are not going to give you that flattering fit that makes your butt look great and fits at the waist. Instead, they're going to fit more like a 100% denim jean. Although this can look great and will last, they aren't always the most comfortable if you plan on running around, bending over or eating a large meal.
 
Just Right
AG Denim contains just enough stretch to give you a great fit without the jeans losing their look after a few wears. Because the stretch content isn't too little, they're going to feel comfortable as well. This proprietary blend of stretch and denim means that you cannot find another pair of jeans that fit like AG Denim's do, which is why we consistently rate them as one of our top picks for those who want to explore the world of premium denim.
 
Finding the perfect pair of jeans can feel impossible, but it doesn't have to when you explore the world of quality denim. Honest is proud to carry AG Denim's jeans. With an assortment of styles and cuts available, you'll be able to experience the AG Denim difference in no time. Still on the fence about wearing them? No problem! Come on in to find the right pair for your body or order several pairs off our website to see what all the fuss is about. Finally, remember to check us out on Instagram to see what we get in stock for AG Denim and your other favourite brands.
XO Deana
Leave a comment