Login
Log in if you have an account
Register
Having an account with us will allow you to check out faster in the future, store multiple addresses, view and track your orders in your account, and more.
Create an account
Embrace the Seasonal Shift: Ideas To Transition From Summer to Fall
15 Sep 2023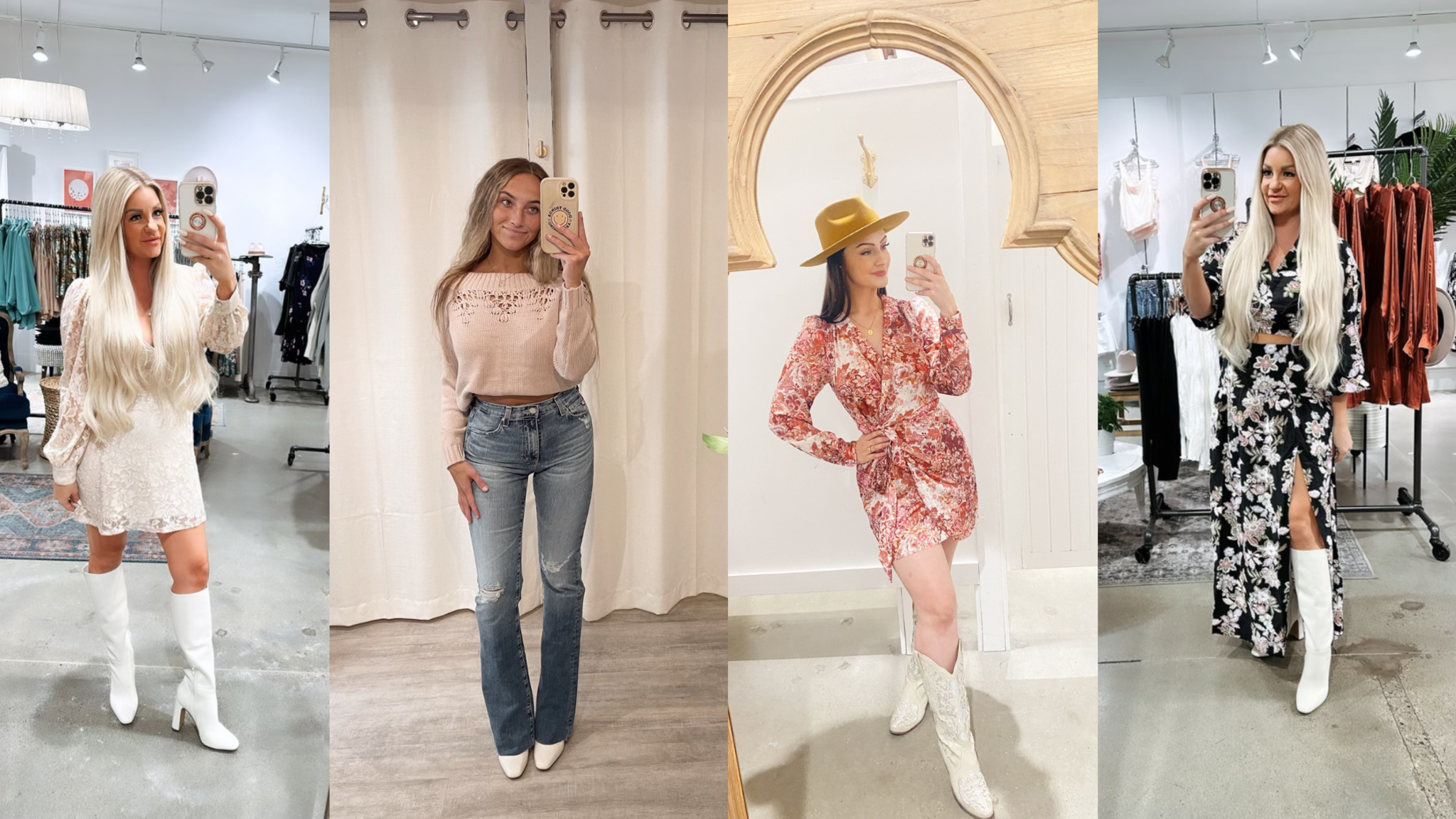 The start of fall is only a few days away, and while many want to hang onto the end of long sunny beach days, wine touring in the Okanagan, boating, camping and everything else summer has to offer... there's something undeniably exciting about the change in seasons, especially when it comes to the Fall Wardrobe.
This is one of my absolute favourite season transitions because I LOVE fall fashion!
Transitioning your wardrobe from summer to fall is an opportunity to embrace new textures, colours, and styles. These are my Top 8 Tips for Transitioning Your Wardrobe From Summer To Fall.
1.Layering is Key
One of the fundamental principles of transitioning your wardrobe from summer to fall is layering. Fall layering not only keeps you warm as temperatures drop but also adds depth and interest to your outfits. Start with lightweight, breathable fabrics for your base layer, and then add on as needed. Consider a stylish long-sleeve top as your foundation, and then throw on a lightweight cardigan.
For a more sophisticated look, experiment with layering different textures, such as a silky blouse under a chunky knit sweater or a leather jacket over a dress. The key is to be prepared for changing weather by easily adding or removing layers throughout the day.
2.Transitional Outerwear
Fall is synonymous with outerwear, and transitioning your wardrobe means updating your coat game. While it may not be quite time for heavy-duty winter coats, investing in transitional outerwear is a must. A classic Stockport Jacket, a denim jacket, or a lightweight blazer are all versatile options that can be thrown over your summer outfits for an instant fall transformation.
Keep the stylish wool hats in mind too - these beauties are back in season! They not only provide warmth but also inject your look with personality and style.
3.Play with Autumn Colours
Fall brings a rich palette of colours that you can incorporate into your wardrobe. Think deep burgundy, forest green, mustard yellow, and warm rust tones. Transitioning from the bright, bold colours of summer to these earthy, muted shades can be a gradual process. Start by incorporating one or two fall-inspired pieces into your outfits, like a rust-coloured sweater or forest green pants.
Mixing and matching fall colours with your existing summer wardrobe can be surprisingly chic. For example, a mustard cardigan over a white sundress or a burgundy scarf with your favourite denim shorts can create a balanced look that embraces the changing season.
4.Swap Out Your Footwear
Say goodbye to flip-flops and espadrilles and welcome back knee-high boots, loafers, and sneakers with a fall twist. Boots, in particular, are a favourite fall wardrobe staple of mine that pairs perfectly with dresses, skirts, and jeans. Choose neutral shades like white, black, brown, or tan for versatility.
If you're not ready to part with your beloved summer sandals just yet, pair them with ankle socks or tights to keep your feet warm and add a touch of season-appropriate style.
5.Denim for Days
Denim is a year-round favourite, but it truly shines in the fall. Swap out your lightweight denim shorts for jeans or denim skirts with a slightly heavier weight. Distressed jeans and vintage-inspired denim jackets are also excellent additions to your transitional wardrobe.
Denim not only provides warmth but also pairs effortlessly with fall staples like sweaters, flannel shirts, and boots. You can dress it up or down, making it an ideal choice for the unpredictable weather that often accompanies the transition between seasons.
6.Accessorize for Impact
Accessories can make or break an outfit, and they're particularly useful for transitioning your wardrobe from summer to fall. Add warmth and style with a wide brimmed wool hat. Swap out your straw beach tote for a vegan leather handbag, and embrace statement belts to cinch in your waist and add an element of sophistication.
7.Experiment with Textures
Fall is all about textures, so don't be afraid to experiment. Incorporate fabrics like tweed, corduroy, and velvet into your wardrobe for added depth and warmth. A corduroy blazer, a tweed skirt, or a velvet dress can instantly elevate your fall style.
Mixing different textures can create visually interesting outfits. For example, pair a chunky knit sweater with leather leggings or a velvet blazer with a silk blouse. The contrast between textures adds intrigue to your look.
8.Revamp Your Beauty Routine
Your beauty routine should also adapt to the changing seasons. Experiment with fall-inspired makeup looks, such as warm eyeshadows and deep berry lip colours.
Additionally, consider updating your hairstyle. Fall is a great time to experiment with new hair colours or opt for a haircut that complements the season, such as a textured bob or long extensions for added warmth.
In conclusion, fall is an exciting opportunity to refresh your style and embrace the beauty of the changing seasons. By incorporating layering techniques, transitional outerwear, autumn colours, appropriate footwear, denim, accessories, rich textures, and a revamped beauty routine, you can create a versatile and stylish fall wardrobe. Embrace the seasonal shift, and you'll be ready to conquer the crisp days and cozy nights with confidence and flair.
Make sure you follow our Outfit Inspiration on the gram!
Deana xo
Leave a comment