Login
Log in if you have an account
Register
Having an account with us will allow you to check out faster in the future, store multiple addresses, view and track your orders in your account, and more.
Create an account
Styling Your Holiday Party Outfit
21 Nov 2022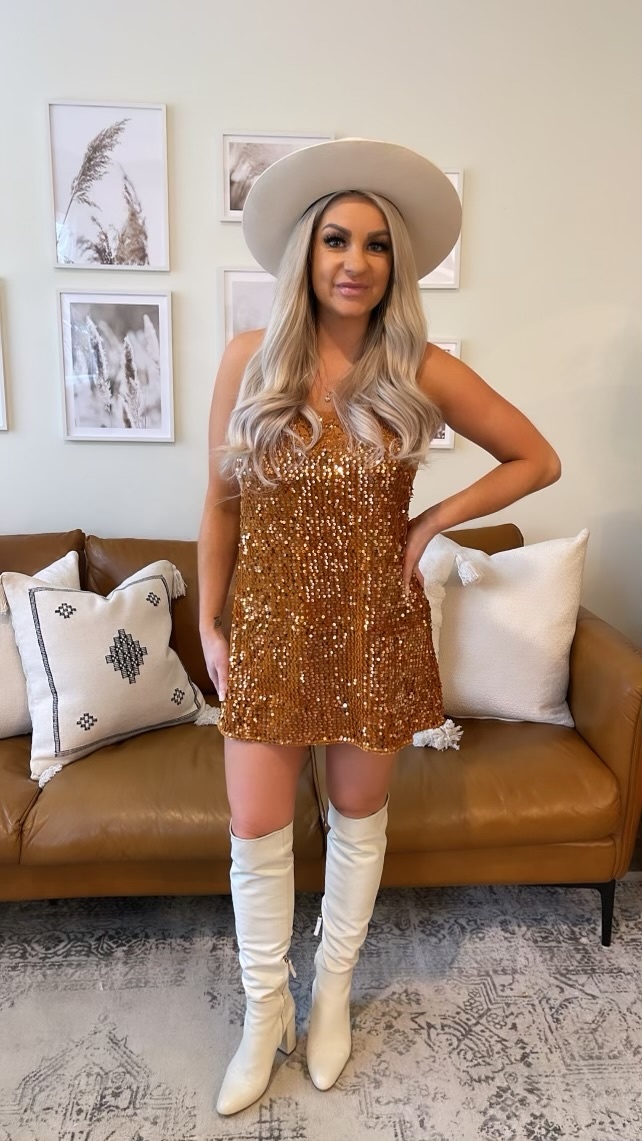 The holidays are almost here and that means it's time to start thinking about work functions and get-togethers with your friends. Whether you're hosting or just showing up, Heartloom and Free People are the two hottest brands of the season to make sure you stand out and make an impression at any holiday party you attend. So, let's talk styling.
Classy Christmas
Fun yet classy is the look you'll want to go with for any Christmas parties this year, and there are plenty of stylish Christmas dresses for you to choose from. Try something with a little bit of sparkle in red or green, and then pair it with accessories in the opposite colour with a belt around the waist to help break up the colour. A red dress that hugs the waist would look festive with a green belt, shoes, and clutch, and a green dress could be paired with red accessories. Glitter is very in-style for the holidays, giving a nice shimmer that's sure to wow.
Dresses aren't the only thing in style this year, you could also go with a longer tunic top and a pair of warm leggings, a great look for both warmth and style. If you go with a glittery tunic in gold, you could pair it with solid-colored tights in black, or you can stick with a black tunic and make it look festive with bold red or green leggings. The choices here are limitless.
Shoes are just as important as the rest of your outfit. Christmas time is a good excuse to wear something bolder in color, so depending on the rest of your outfit, green or red would fit a lot better than the more neutral colors you might wear to other functions. Something strappy with a heel would fit nice with a mid-length dress, and if your outfit is boasting a bit of sparkle, that should continue with the shoes. If you're wearing leggings that fit tighter around the ankles, booties that you can be worn over the bottom of them is a great choice to give the whole look a more cold-weather vibe.
Now let's talk accessories. Gold jewelry matches green and red the best, but Christmas is the type of holiday that doesn't look bad mixed with a little silver either, it's just best not to go overboard. If your Christmas party dress or tunic is glittery, try to stick with simple, understated jewelry so you don't make the whole style look too busy. Belts and handbags tend to look better if they contrast with the rest of the outfit in color alone but are simpler in style. Hair accessories, on the other hand, can look very nice if they're a little more noticeable. Something reminiscent of holly or mistletoe can give your outfit a little more Christmas cheer.
Winter Wonderland
Christmas may be the most popular type of holiday party, but not everyone celebrates, and more people are opting to host non-denominational holiday parties, or White Elephant parties. Whether you celebrate something else personally or just want to be inclusive, you can still put together a fun, winter-y outfit that's sure to wow.
Dresses with a looser skirt are still the perfect kind of holiday party dress for this, something that hugs the waist and flares for the skirt, but go for cooler colors like blue, white, and silver. A hint of sparkle can make white and silver look like fresh snowfall, and what's more of a winter than that? Since these colors aren't as bold as red and green, you can mix them without making the outfit look too busy. A softer blue dress with a subtle white or silver pattern would look nice. With this, it's better to make the boldest color the focus, and the more neutral colors the accent.
Alternatively, for a warmer take, you could try a knit sweater over a long skirt. Looser sweaters are a cozy look for the holiday season and a skirt helps dress the outfit up for that extra bit of style. Try to find one that flares out from the waist instead of hugging close, as it tends to lend a more classic holiday feel.
For a look with pants, matching it with a nice blazer or scarf would look the best. A scarf used like a shawl would look good, something a little shimmery but not too bold. A neutral color like white would look good as your main color, and then a pop of silver or an icy blue tank with a scoop neck to bring it together. High-waisted slacks with a flare leg are in right now and would give the whole outfit a chic look.
Your shoe choices are more versatile here and can either help bring the outfit together by matching whatever your accent color is, or you can go with a more understated look and match with the main color. Glittery shoes to make a statement or something simple to blend in with the rest of your outfit are both fine looks. Heels would be classy with both a dress or pants but go with something simple if you're trying to blend them with the rest of your outfit, or something with straps if you're going for a glitterier look to match with whatever accent color you've decided on. Once again, booties or something with a warmer look would go great with leggings or pants that you can tuck into them.
Accessories could also go either way. If you're going with something glitterier and more patterned for your office party dress, stick with simple, understated jewelry and accessories that don't make the outfit look too busy. If your outfit is simple, you can go a little bolder on your accessories to dress the whole attire up a bit. Silver would be your best bet for these winter-themed outfits, with necklaces that hang closer to the throat and simple stud earrings.
Ringing In
After all the winter parties are said and done, it's time to shift gears and ring in the New Year with friends and coworkers. New Year's parties are just as popular as the typical holiday and Christmas parties, so hang up the reds and greens and grab something with a little more glitz and glam to match with your champagne glass.
A good New Year's dress is something that fits snugger and falls a little longer. For these, go with a bodycon dress or something that fits tighter and hugs all the way down. While the holidays were great for glitter, New Year's tends to be more of a sequined even. You'll want to find something that's shinier and sleeker than sparkly, but you don't necessarily have to go for anything covered in sequins, even if it is a really good look. A simple black dress with gold and silver accents can work really well too. These parties tend to be less formal and more focused on just having a good time, so if it's not a work function that requires you to be more conservative, a backless dress or a plunging neckline would fit right in. For those office parties, you could go with a looser, draping neckline that doesn't dip down too low.
For pants, something high-waisted with a flare leg in black and a sequined bodysuit would go well together, especially in gold or silver. You could wear it with or without a blazer or go for a bodysuit or a top with a scooping neckline. It's about the balance of where your outfit hugs and where it drapes, so having a nice draping neckline at the top and the wider flare of your pants at the bottom will keep you from looking too tightly wrapped in the outfit, even while everything else hugs your curves and accents your shape.
A New Year's party also brings with it a wider range of shoes. If you have a shorter bodycon dress, try wearing a pair of matching boots that go higher up on your legs. For longer dresses, it's back to the strappy heels with a touch of glitter or shine in gold or silver to match with your glitzy accent color and keep it from being swallowed up by the black. Those same heels would work well with the black slacks if you match them to the sequined bodysuit, too. Black shoes could also work with these outfits, but if you have too much black going on you run the risk of looking a bit too formal for a fun New Year's party.
A mix of silver and gold can be your final touch to your New Year's outfit. Again, something understated since the actual dress or outfit should do most of the talking for you, but if you do decide to go with a plain black dress with shiny accents, a longer statement necklace or a layered necklace can really dress it up. Pearls and smaller dangling earrings or hoops match perfect with this style, and when paired with a black clutch, you're all set to go for a nice night celebrating the New Year.
Deana XO
Leave a comment